Cocksure Men says: Aron Ros goes to Miky Bolton's desk, they kiss and feel each other out. Aron pulls out Miky's prick and starts jerking it. He gets on his knees and slurps Miky's humongous uncut cock. Miky pulls down Aron's sweatpants and takes his turn sucking dick.
Miky lays on the floor and Aron fingers his hole while sucking on his cock. Aron sits on the edge of a chair. Miky lays under him and eats Aron's ass while Aron jerks his dick. They lay down next to each other, spooning, and Aron barebacks Miky from behind.
Miky moans with ecstasy as Aron's raw cock plunges deep. They fuck bareback doggy-style. Aron thrusts his raw cock deep inside Miky's juicy hole. Miky sits on Aron's cock, going for a joy ride, while jerking his own cock. Aron barebacks Miky in the missionary position.
Aron Ros pulls out and shoots his jizz on Miky's ass cheeks, then pushes his raw cock back inside, seeding his hole. Miky stands and jerks his load on Aron's face. They end with a kiss after the hot bareback fuck.

Cocksure Men says: Hunky Ondrej Oslava lays on a bed fully clothed and stroking his hard, uncut cock. Young Dom Josef comes into the bedroom and they kiss. Dom worships Ondrej's muscular abs and chest. Ondrej moans as Dom sucks his hard prick.
They take each other's clothes off and Ondrej licks and sucks Dom's big pole. They 69 with Dom on top. Dom turns around and fucks Ondrej's face. Dom pile drives his rod deep into Ondrej's mouth as he gets finger banged. His hole ready for action, Dom sits on Ondrej's raw cock for a bareback ride.
Ondrej pummels him hard and fast from below. Dom changes his view and sits again on the hard, raw cock. They take a break to kiss and suck each other. Ondrej gets behind Dom and barebacks him from behind. Dom holds his big dick as Ondrej slides his raw cock in and out.
Ondrej Oslava shoots his wad on Dom's ass then slides his sticky prick in bareback, seeding Dom. With Ondrej at his side kissing and touching him, Dom Josef shoots his load onto his abs.
A final kiss ends the scene.

Cocksure Men says: Muscle studs Marek Tanker and Erik Spector make out and feel each other up on a lounge chair. Erik unbuttons his jeans and pulls his briefs down. Marek stands up, while pulling down his jeans. Erik starts sucking Marek's prick while jerking his own.
Erik turns around showing off his hole. Marek fingers the tight ass getting it ready for his raw cock. Marek fucks him bareback doggy-style, stretching Erik's hole with each thrust. Erik lays on an inflatable bed. Marek fucks him raw in the missionary position, while Erik jerks his dick.
Erik's face gives his hole a break and gets face-fucked by Marek. They fuck bareback while spooning. Marek slams his raw cock bareback deep into Erik's hole. Erik Spector shoots a strong load all over his abs. Marek Tanker pulls out and shots his cum on Erik's thigh before both studs share a hot kiss.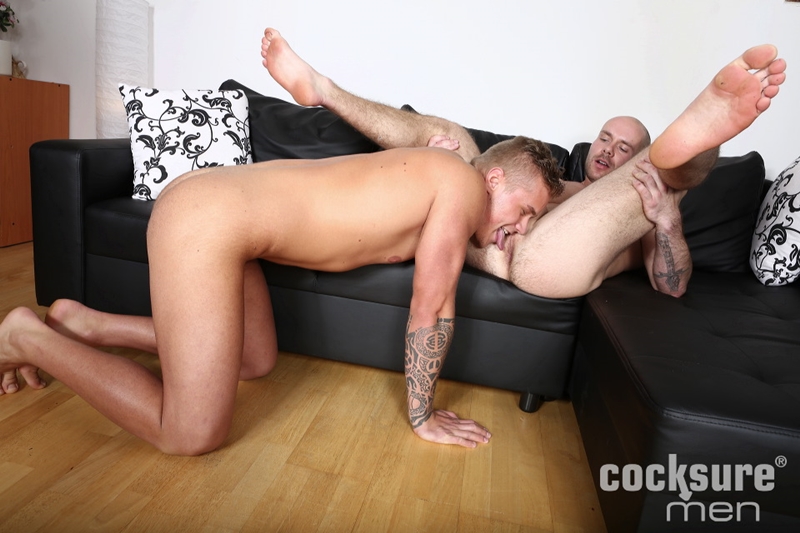 Cocksure Men says: Alex Bach and Ryan Cage kiss passionately while feeling each other's muscular bodies. Alex takes Ryan's shirt off and plays with his nipples.
Ryan returns the favor. Alex unbuckles Ryan's jeans and pulls his dick out. Ryan follows his lead and does the same.
The two studs kiss and jerk their cocks before Alex kneels. Alex makes it down to Ryan's thick uncut cock and sucks hard.
They finish taking their jeans off and Ryan blows Alex, deep-throating his pole and massaging his huge sac. Alex lays on the couch with his legs up and Ryan rims his hole.
Alex flips Ryan over on the couch with his butt up and licks his tight ass. With Ryan's hole nice and wet, Alex slides his raw cock bareback into Ryan's bubble but, doggy-style.
He fucks bareback in the spooning position while Ryan plays with his own prick. They change position and fuck missionary-style revealing Ryan's amazing thighs.
Alex smacks Ryan's ass cheek as he pounds him bareback with his raw cock. Ryan Cage jerks his load all over his stomach.
Alex pulls out and busts his nut between Ryan's balls and ass. Alex Bach then seeds Ryan's hole bareback.
Cocksure Men says: Dennis Reed enters a room and begins to work on his laptop. He notices a few holes in a wall. Sure enough a big, hard cock appears through a glory hole.
Dennis is curious and grabs the protruding pole, strokes it, then gives it head. The jock connected to the peeping penis is Karl Rossi.
He goes over to Dennis and they kiss while Dennis jerks Karl's cock. Dennis unbuttons Karl's shirt and sucks his nipple.
He sucks Karl's uncut cock some more. Karl takes his shirt off and turns around showing Dennis his creamy white ass.
Dennis smacks his butt cheeks a few times before both studs take their jeans off. Karl gets on his knees and swallows Dennis' cock.
Dennis lays Karl on the couch and pulls Karl's leg up exposing his hole. He rims the hole while Karl pulls on his boner.
With Karl's hole wet and ready, Dennis plows his raw cock bareback into Karl. Karl moans loudly as every thrust of Dennis body pumps his hot meat deep into him.
Dennis sits on the couch and Karl sits on his pole, riding it like a champ. He works his ass on Dennis raw cock, stretching his hole for the thick pecker.
They kiss passionately, and keep fucking like horny bulls. Karl gets on all fours. Dennis doesn't waste any time plowing Karl bareback doggy-style, slamming his big raw cock all the way to the base.
Dennis pulls out shooting his load on Karl's ass. Dennis Reed sticks his wet cock back in and barebacks Karl, seeding his hole.
Karl Rossi stands over Dennis and strokes a load on his abs. Karl licks up his own cum off of Dennis.
Cocksure Men says: Stud Thomas Ride and ripped muscle jock Patrick Tyson kiss and feel each other's hard bodies. Patrick drops to his knees and pulls Thomas' cock out and swallows it.
Thomas fucks his mouth before they have a "sword fight." Thomas lays on the couch to return the favor and sucks Patrick's rod, deep throating it. They kiss some more.
Thomas takes Patrick's pants off while laying on the couch arm rest. Patrick lifts his legs and Thomas rims his hairy ass.
Thomas gets Patrick's hole wet and slides his raw cock deep inside bareback. Thomas leans Patrick face down on the couch and pile drives his raw cock bareback into Patrick's hungry ass.
Thomas pulls Patrick up to stand. Patrick places his right foot on the coffee table and Thomas fucks him bareback harder than before.
We get a view of the raw penetration from underneath. Thomas Ride pulls out and sits Patrick on the couch then shoots his load on Patrick's neck.
Thomas sucks Patrick's cock until Patrick Tyson busts his nut on Thomas' cheek. Exhausted, they kiss.
Cocksure Men says: The energy is off the charts between hairy muscle studs Stevens Richards and Matt Stevens. Matt gets on all 4's and starts sucking Steven's huge cock while Steven fingers Matt's hole.
Matt enjoys every second of it and Steven wastes no time penetrating his hole bareback. He fucks Matt hard before Matt sucks Steven's cock, tasting his own ass juice.
They go back and fuck doggy-style. Steven slides his long raw cock into Matt's wet hole. Matt moans as Steven thrust his raw cock, bareback, in and out of his ass.
Steven switches it up by fucking sideways, pounding Matt's ass bareback in every angle. Matt takes a break from getting plowed and deep throats Steven's massive pole, gagging on the huge pecker before eagerly riding the raw rod.
They go back and forth before Matt turns around, rides Steven's thick meat, and bounces his hairy ass ecstatically. Matt hops off and shoots his thick wad into Steven's mouth, making his cum drip from chin to chest.
Matt takes a taste of his own cum when he kisses Steven. Steven Richards blasts his load on Matt Stevens ass checks.
He shoves this dripping, wet shaft back inside for a few more thrusts before laying on top of Matt for a sexy kiss.
Cocksure Men says: Robin Few and Jake Dante look amazing in front of the bed as they make out wildly. After they are both out of their shirts, Jake licks Robin's chest and abs.
Jake's tongue moves down to Robin's cock, which is poking out, ready to have Jake's lips wrapped around it. Robin can't get enough, grabbing Jake by the head and pushing his dick deeper.
They take a kissing & jerking break before Robin gets Jake on his back. Robin get his mouth on Jake's big, uncut cock and deep throats it. Robin turns Jake's lower body over and eats his tight ass.
Then he fingers Jake's hole, getting it wet for his raw cock. Robin slides his huge cock barebacking Jake's bubble butt. Robin pumps his raw dick into Jake's tight hole while Jake moans louder and louder.
Robin and Jake flip things around. Jake lays on his back and Robin barebacks him in missionary, slamming his raw cock deep into his ass. Jake turns his back on Robin making it easier for him to shove his thick cock up his ass.
Robin fucks him bareback until Jake pops his load all over his abs. Robin Few pulls out and shoots a thick wad around Jake Dante's ass cheeks, then pumps his cock in and out Jake's hole breeding him.
Cocksure Men says: Alex Bach and Karl Rossi kiss passionately while feeling each other's hard bodies. Karl unbuckles Alex's jeans and pulls his cock out before kneeling.
He blows Alex's thick, uncut cock and sucks his big balls. Alex takes his shirt off while getting his meat sucked. He likes playing with his nipples while Karl jerks his cock.
Alex stands him up and they make out while jerking their rods. They get naked and into a 69 position to suck their hard rods.
Alex rims Karl's hole while Karl pulls on his boner. With Karl's hole wet and ready, Alex plows his raw cock bareback into Karl's ass.
Karl moans as every thrust of Alex's muscled body pumps his raw cock deep inside. They change position and Karl gets on all fours.
Alex doesn't waste any time plowing Karl bareback doggy-style, slamming his raw cock deep in Karl's ass. Alex lays behind Karl and fucks him sideways, while Karl jerks his dick.
Alex lifts Karl's lower body and rims his hole, while Karl shoots his thick load so far it flies into his mouth.
Alex stands and cums on Karl's ass cheeks. They end up with a kiss after hot, bareback sex.
Cocksure Men says: Hairy muscle stud Thomas Ride and sexy jock Adam Weisz kiss like their in heat. They remove each other's shirts before unbuckling their jeans.
They kiss and play with their cocks before getting fully undressed. Thomas hops on top of Adam and fucks his mouth.
He then goes down on Adam and swallows his thick cock, wrapping his lips around his dick. Adam squats over Thomas' face, making Thomas dig his tongue deep into his bubble butt, getting it ready for the thick, uncut cock.
Adam rides Thomas pole bareback while Thomas thrusts his raw cock deep into Adam's hole. Adam helps Thomas up for a quick kiss before laying on the couch armrest.
Thomas pulls Adam closer towards him. He enters Adam in one thrust and plows his tight hole bareback. Thomas works his long and thick raw rod into Adam's horny hole.
He tosses Adam across the coach and fucks him missionary one more time. Thomas plunges deep into his hungry hole making Andy shoot his spunk on his abs.
Thomas Ride pulls out his raw cock and jerks his load out on Andy's balls. He then shoves his throbbing cock bareback into Adam Weisz' hole. They end up this hot scene with a sensual kiss.