Cocksure Men says: Young studs Bobby Gest and Dick Keissie kiss passionately in bed. Things heat up quickly. Bobby helps Dick take off his briefs and puts his wet, juicy mouth around Dick's pole.
Dick's no slacker in the oral department either, treating his buddy to a great oral service. Dick then face fucks Bobby's mouth making him swallow his cock while he shows off his biceps.
Dick lifts his leg revealing his sweet hole, ready for Bobby's tongue. Bobby must be hungry, eating Dick's hole like crazy while Dick strokes his pole.
Dick gets on all 4's, ass thrust into the air, waiting for Bobby's raw cock to slide deep inside him bareback. They switch it up and Bobby barebacks Dick missionary style and taking control, slamming his pecker hard as Dick jerks his pole.
They break for a few seconds by kissing, then restart fucking bareback. Bobby fucks his so hard that Dick lets off a huge load all over his muscular torso.
Bobby Gest pulls out and shoots his wad on Dick's thigh, then breeds Dick Keissie's hole before kissing.
Cocksure Men says: Scotty Rage and Derek Parker are in mid ecstasy when we first see them. Derek is laying in bed sucking Scotty's stiff cock. They kiss passionately and Scotty can't keep his hands off Derek's chiseled body. Scotty sucks Derek's cock then they 69.
Scotty spreads his smooth ass open and licks Derek's tight hole before tasting his cock. Derek goes for Scotty's cock, sucking it before they kiss again. Scotty fucks Derek bareback, pounding hard at his wet hole missionary style.
Derek face fucks Scotty's mouth before Derek gets on all fours and Scotty rims his hole once more. With Derek's hole nice and wet, Scotty plows him raw. Derek sucks Scotty, tasting his own ass juice.
Scotty lies down and Derek rides his raw pole bareback. Derek jumps off and sucks Scotty's prick, then goes back on riding his raw cock bareback.
Derek turns around facing away from Scotty and rides his raw cock while jerking his rock hard dick. Derek Parker kneels beside Scotty and they both furiously pump their cocks, getting themselves close.
Scotty Rage is first and squirts his juice on his belly, then sucks Derek's cock until he unloads in his mouth. Derek's cum oozes out the side of his mouth.
They kneel facing each other and kiss, Derek tasting his own cum in Scotty's mouth.
Cocksure Men says: Ennio Guardi and Andy West kiss intensely while feeling each other's muscular bodies. They take their shirts off and Andy plays with Ennio's nipples. Andy takes Ennio's cock out of his pants and starts sucking on Ennio's huge uncut cock.
Ennio takes Andy's jeans off and deep throats his prick while stroking his own. Ennio lays down on the couch and Andy sits on the head-rest. Ennio eat's Andy's ass eagerly as he strokes both his and Andy's dick. Andy licks Ennio's ass while Ennio strokes his pole.
Andy lays sideways in front of Ennio who swiftly penetrates his ass bareback with his raw cock. They mix things up and Ennio fucks Andy missionary style, filling his hole perfectly with his raw cock. Andy climbs on top of Ennio and rides him hard bareback.
His rock hard cock bounces with each thrust. Andy busts his nut riding Ennio's pole bareback, gushing a thick load all over the place.
Ennio Guardi jacks until shooting his hot load on Andy's ass checks, then shoves his raw and wet cock back inside Andy West's ass, breeding his hole. The studs share a passionate kiss and embrace, spent after hot bareback sex.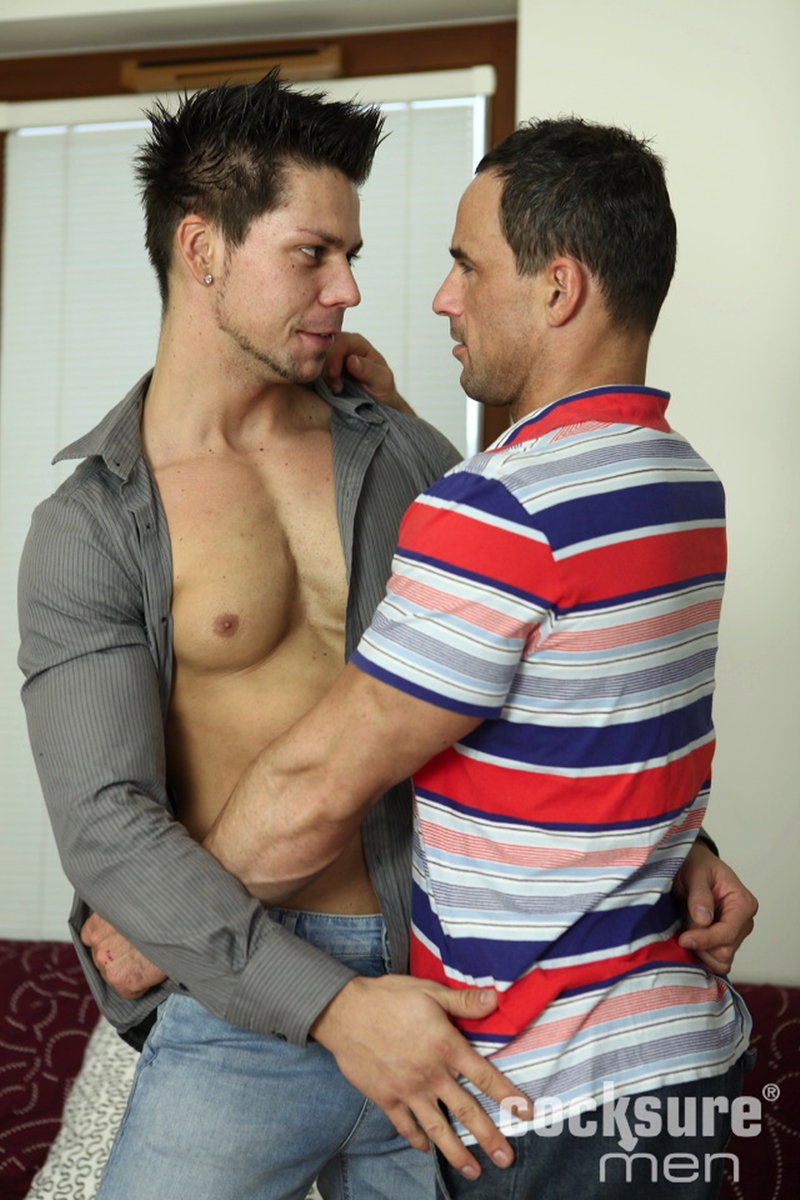 Cocksure Men says: Alessio Romero lays on his back and spread his legs to take Jay Conrad's hard raw cock up his ass, bareback.
Alessio pounds his hole and jerks Jay's cock until Jay shoots out a creamy load all over his stomach and cock.

Cocksure Men says: Karel Jozef stands, leans on the tub, spreads his ass open to accept Ivan Jizera's bareback cock doggy-style.
Karel lays on top of Ivan and jerks his huge load on Ivan's chest.

Cocksure Men says: Construction workers Paul Fresh and Ondrej Oslava are on a rest break from their working day at the cement factory.
As the sexy young men chat they can't but help notice each other's fit muscular bodies. Paul reaches out and opens Ondrej's sports top. He can't keep his eyes (or his hands) off Ondrej's ripped six pack abs.
Paul runs his hands up and down feeling down below Ondrej's belt to his fully packed crotch. They guys' lips touch and they kiss passionately.
Paul unbuckles his belt whilst his other hand massages Ondrej's big thick cock and balls. Paul wastes no time, falling to his knees and deep throating Ondrej's dick, taking it right to the back of his throat.
Ondrej returns the favor sucking up Paul's hard erect cock whilst cupping his balls rubbing them between his fingers.
Lying back on the cement stack Ondrej's cock slips between Paul's moist lips as Paul's tongue works it's magic on his mushroom sized cockhead. The sensation sending a quiver down Ondrej's spine.
Conscious of the time, Ondrej puts his leg up on a pallet opening his tight asshole giving Paul the signal he's been waiting for. Paul bareback fucks Ondrej's bare ass with his thick cock.
As the bareback fuck session goes on, Ondrej's face shows pure ecstasy. He enjoys every minute of Pauls raw cock sliding into his hole.
Ondrej takes command and rides Paul's cock raw, while jerking his own pole. It's an accomplishment to take as much raw cock as Paul has to offer and Ondrej excels at it.
Ondrej loves the feeling of Paul's bareback cock inside him so much that he cums all over his tight abs. Paul Fresh follows him up, dropping a thick load of his own on Ondrej Oslava's ass cheeks.

Cocksure Men says: Alex Bach is looking at his favorite porn web site, when co-worker Sean Robson walks in.
Sean sees what's on the MacBook and lets Alex know it's his favorite site. The two young studs grope and kiss in the office, feeling each other's hard bodies through their clothes.
Sean unbuttons Alex's shirt revealing his muscular, hairy chest. Alex takes off Sean's shirt revealing his muscular, smooth chest. They kiss and grab each other's bulges.
Sean kneels, pulls down Alex' briefs, and sucks on his big, uncut dick, licking his balls along the way. Alex takes his turn on Sean's pole, sucking the tip then licking Sean's hanging balls.
Alex turns Sean around and barebacks his hole doggy style. Sean moans as Alex's raw cock slides in and out. Sean lays flat on his back on the desk and Alex continues to prod him bareback.
The studs get comfortable on the carpeted floor and Alex rams his raw meat into Sean bareback. They get up and Sean sucks Alex Bach until he shoots his load into his mouth.
Sean Robson gargles the sweet juice and lets it drip out of his mouth. With Alex behind him Sean strokes his cock to a big finish.

Cocksure Men says: Mark Brown and Karl Rossi waste no time, passionately kissing until Mark wraps his mouth around Karl's big pole. Karl's cock quickly gets rock hard. Karl returns the favor by sucking Mark's dick.
Mark throws Karl on the bed and digs his tongue deep, eating Karl's sweet ass. Mark slams his meat into Karl bareback. Karl loves it as Mark thrusts harder and faster.
Karl turns around, his legs now in the air and facing Mark. Mark pumps his throbbing raw cock in and out of Karl's hungry hole. Mark takes a break from the bareback fuck-fest and sucks Karl's prick.
Mark returns to fucking Karl bareback. Karl lays sideways and Mark spoons him from behind, plowing his hole with his raw pole. They change positions to missionary, Karl loves the feel of Mark's meat sliding in and out of his ass bareback.
He cums all over his body while getting fucked raw. Mark Brown pulls out splashing his huge load on Karl Rossi. Spent after hot sex, they end with a kiss.

Cocksure Men says: Ivo Kerk then takes charge, sticking his raw cock bareback into Ondrej Oslava in a doggy-style position.
Ondrej then lays on the railing wall, Ivo takes advantage and fucks him raw.

Cocksure Men says: Antonio Miracle gets on his knees and reveals Mario Domenech's cock that sports a Prince Albert. Antonio deep throat his cock as Mario grabs the back of his head.
Antonio stands, letting Mario get a turn at his cock. He spreads Mario's ass cheeks and licks his man hole.