Picture this Studios says: We go a few shades darker with its latest update, their third shoot with thick dicked british stud, Mark Getty.
Its hard to believe that this is the same fresh faced guy that first appeared on this sexy UK site way back in 2010, when he revealed his impressive uncut man meat for the very first time in a stunning bathroom shoot.
Hot naked football referee Fraser Jacs jacks off in the locker room
Picture this Studios says: Horny hottie 22 year old Fraser Jacs is back for a second time, last time he was all greased up after a bit of car trouble, ending up naked jerking his fat cock on the hood of his car. This time he has just finished his Sunday League soccer game.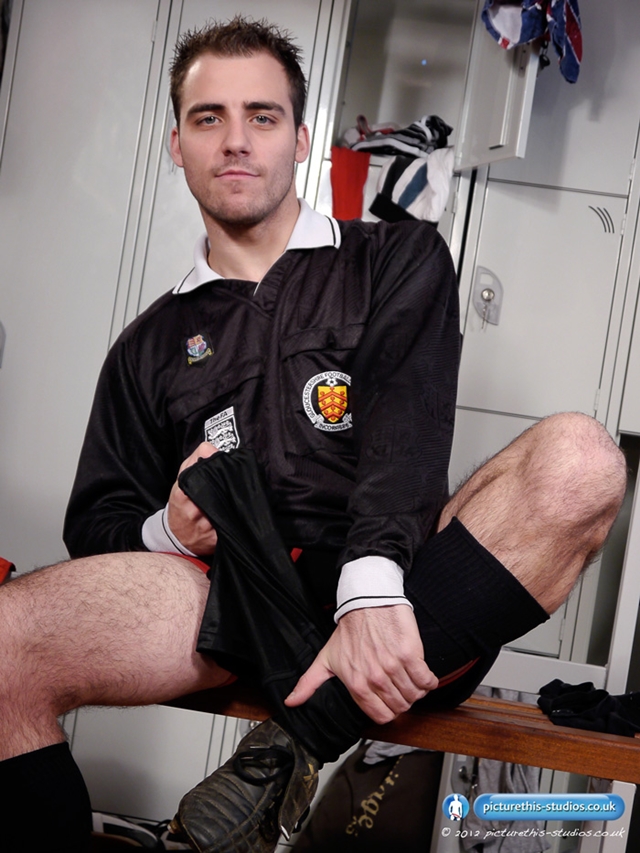 He's not a player as such but a referee. In the locker room Fraser, all hot and sweaty after a hard won match he strips slowly out of his kit. He has a lazy looking dick which is extremely thick even when not erect, although that is about to change. Having just spent 90 minutes in the company of 24 hot rampant football players (all straight I am afraid) Fraser is keen to let off some steam himself.
Picture this Studios says: As winter slowly approaches in the UK, it seems there is not much work for gardener's across the country, which means looking for other ways to make a bit of extra cash.
One such gardener is none other than one of picture-this-studios very own exclusive hunks Rupert Bailey. Always happy to help out, it seems they not only got him over to tidy up their back yard, but before he even had the chance to shower and clean up, they got him into their studio one more time for this, his horniest shoot to date.
Picture this Studios says: Another video debut from the guys at picturethis-studios, this time featuring that sexy Britsh Essex-lad Craig Freeman, the slim guy with the big dick, who we have all enjoyed getting to know intimately earlier this year in his two massive galleries that are already available on this hot UK website!
We've been told that this video actually pre-dates both of those stunning galleries, which explains why we can still detect a hint of that horny nervous energy that these guys have when jerking off on camera for the very first time! As usual though, their confidence always seems to arrive as soon as they have their rock hard dicks in their hands, and its clear just how much Craig is turned on by having the camera just inches away from his as, even though he's uncut, enjoys slowly smothering his pumped up shaft in lube to really show off every inch of his raging boner!
Picture this Studios says: The last time we saw Corey Malone on picturethis-studios he was certainly looking hot, dressed for the office in his crisp white shirt, waistcoat and tie! Corey clearly likes to play as hard as he works though, and his office surroundings didn't prevent him from having a hard and horny wank, happy to show off his impressive uncut cock on camera for the very first time. Even when soft this british guy is suprisingly large, and he returns this month to show it off in all its glory once again.
He's looking just as hot in his jeans and t-shirt and seems a whole lot more laid back about getting naked, having worked with this cool UK studio once before. Its doesn't take long therefore, for Corey to strip and go to work on his thick cock once again, all shown in the usual "access all areas" style that this hot British website does so well. Our fingers are crossed, given this is Corey's second massive feature gallery, that the next time we see him will be to shoot his hot sticky load on video for us all to enjoy. We think it would make one hell of a movie.