Sean Cody says: Sexy young muscle hunk Tanner slips his inquisitive tongue deep between nude muscular dude Duncan's tight bubble butt cheeks. He rims his man hole getting it nice and wet for his raw cock.
Once fully lubed Tanner slides his hard erect dick into Duncan's hot bare asshole. Pumping away, Tanner bareback ass fucks Duncan in long slow strokes. His bare cock slipping deeper and deeper till his balls slap against Duncan's ass cheeks.
The raw ass fucking continues until both muscle boys are close to their orgasms. Then in a quick fire round, first Tanner then Duncan unloads his balls right across each other. Ending in a hot sticky mess.
Sean Cody says: Smooth young muscle boy Timmy slides down his sexy underwear revealing his tight cute bubble butt. As he turns around we get to see his hard erect dick.
Muscle stud Timmy jerks his cock hard and with an intensity, he's certainly intends to spills his beans with absolutely no delay.
Timmy moans deeply as his balls are clearly close to releasing their cum prize. Timmy wanking hard and fast now, breaths deeply and sprays his young muscle cum across his ripped six pack abs.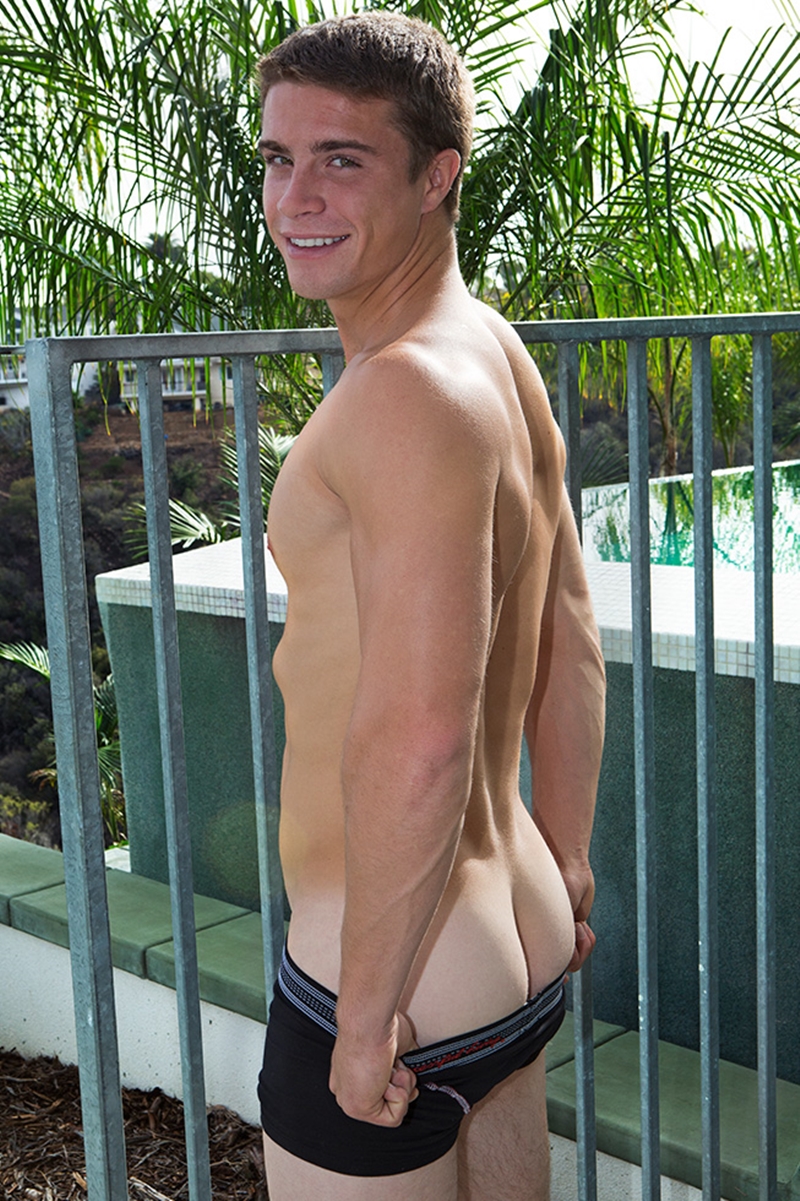 Sean Cody says: Sexy young muscle boy Clint strips naked out of his board shorts showing off his ripped muscular torso. As he lifts his arms above his head we get to see his wisps of underarm hair. Very sexy.
Off come the shorts and Clint jerks his thick and long uncut dick, it's already hard before he's even touched it.
As he wanks his fat uncut cock Clint pulls his veiny foreskin back and forth over his big red mushroom dickhead.
His breathing is laboured as he masturbates harder and harder, he's close now to his orgasm, then with a few short breaths he sighs and delivers a full load of muscleboy cum across his ripped abs.
Sean Cody says: Sexy muscle boy Sergei strips naked out of his board shorts, showing off his ripped muscular body and his thick uncut dick.
Sergei's cock gets immediately erect as he touches it for the first time. With a smile on his face, he hides his obvious nervousness, and jerks his dick until he is fully into the rhythm.
Sergei wanks hard with long strokes, moaning a little as he is clearly getting close to his orgasm. Then with a few brief tugs, he spews cum all across his muscled chest and ripped abs. Another creamy mess from a sexy muscle boy.
Sean Cody says: Sexy dark haired muscle hunk Curtis bareback fucks the tight boy hole of muscled stud Tate. Curtis gets down on his knees and sucks Tate's hard erect cock deep throating it right to the back of his throat.
Curtis then slips his bare dick between Tate's muscled ass cheeks till he-s pumping away wildly at Tate's moist raw ass hole. The hard ass bareback fucking continues until both muscle boys are on the edge of orgasm.
Then in short succession both muscle studs blow their huge cum loads across each other. A self satisfied look on both their faces. Bottom boy Tate looks particularly pleased.
Sean Cody says: Sexy bearded muscle stud James is new to Sean Cody. This ripped young hunk is a little nervous at first but once he drops his shorts and is jerking his big curved dick his confidence appears like magic.
James shows off his ripped six pack abs and his trimmed chest hair and check out those beautiful piercing eyes. James will have you captivated for sure.
He works intently jerking his big manhood till his cum filled balls are almost ready to give up their creamy cum. When he shoots James fires a cum shot right up across his chest and abs. He ends in a gorgeous sticky mess.
Sean Cody says: Sexy young muscle stud Duncan chokes down hunky muscle boy Landon's huge black cock. Once fully erect Landon pushes his big raw dick tightly between Duncan's pale smooth bubble butt ask cheeks.
Landon bareback fucks Duncan's tight man hole hard and deep, swapping positions a number of times before both guys are on the edge of orgasm.
In short succession both Landon and Duncan shoot their cum, emptying their balls over each other. A hot interracial gay bareback fuck session.
Sean Cody says: Young dark haired muscle pup Anthony leans back against the railings outdoors, showing off his well filled underwear crotch. Anthony reaches down into his undies and cups his balls and semi-erect dick.
His wet underwear show a clear outline of his big thick dick. Back indoors Anthony strokes his hard erect cock in clean firm strokes. Turning he shows off his smooth bubble ass cheeks and his board short tan lines.
Anthony wanks his dick harder and more intensely till his balls are ready to give up their muscle boy cum prize. Then within a few seconds he blows a huge load of hot boy jizz all across his chest and six pack abs.
Sean Cody says: Today tattooed muscle guy Parker bottoms for Brody's fat cock. Naked muscle hunk Brody gets on his knees between Parker's muscular legs, lapping up his hard erect dick. Brody takes the stud's full dick right to the back of his throat.
Then without much lube Brody shoves his bare dick deep between Parker's smooth muscle butt ass cheeks, ramming it home right till his balls. Holding tight to Parker's calves Brody forces himself into Parker's tight asshole.
There is no let up in the bareback fucking with the muscle boys swapping positions time and time again. Before Parker jumps up and lowers his aching man hole down onto Brody's straight throbbing dick.
Now in full control Parker grinds his ass down deeper and deeper, feeling the full length and thickness of Brody's man meat. The bare fucking continue until both muscled hunks can take no more.
In short succession first Parker then Brody lets off a stream of muscle cum. Coating each other with their creamy muscle loads.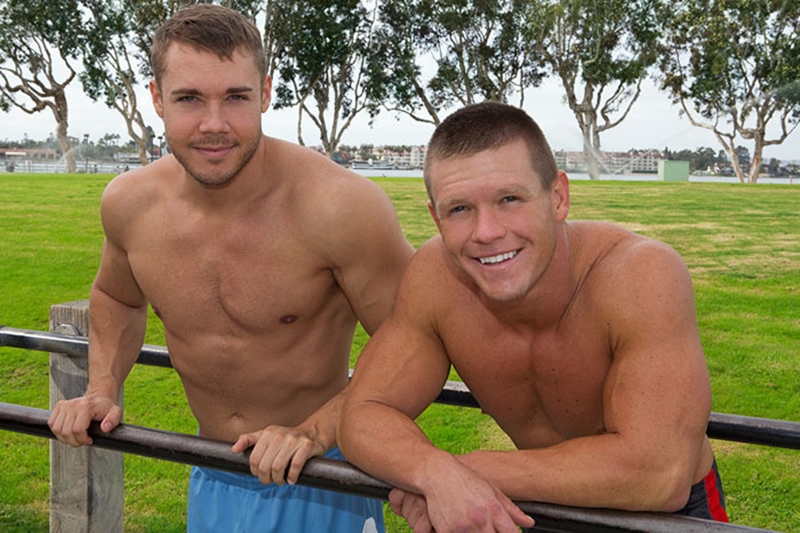 Sean Cody says: Sexy muscle dude Brody already has a boner in his pants when he first sees Rusty. Brody strips naked and licks his tongue deep between Rusty's smooth ass cheeks.
He rims Rusty's man hole deep getting it wet and lubed ready for his hard erect cock. Brody slides his raw dick deep into Rusty's tight asshole. Holding on to Rusty's hips, Brody pulls himself deeper and deeper, pumping his cock balls deep.
The sexy muscle boys swap positions time and again, each time the fucking gets more intense and wild, bringing them close to orgasm. Then within seconds of each other first Brody then Rusty releases a huge stream of muscle cum across themselves.