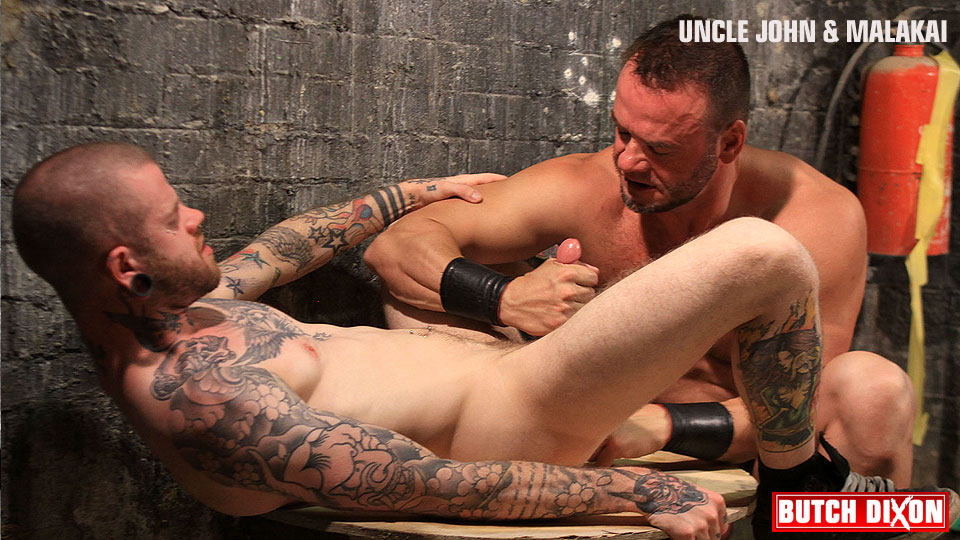 Malakai has that bad-boy look that I love and when he told me his favorite Butch Dixon man is Uncle John I knew what a great combination that would be. Malakai's extreme piercings, all-over tattoos and sparkling blue eyes are just parts of what makes up his dirty fucker image, the facial scruff and number 1 crop are others, and of course his big uncut cock and low-hanging balls complete the picture…
Uncle John is on his best form right now; bearded, very toned and permanently hard – being single certainly suits this guy and he's hungrier than ever. They both loved the dirty old cellar at my place and wanted to fuck right there on the mud floor and over some old crates.
There's an extra element to this shoot I wish I could capture – the sheer animal scent these guys gave off as they went at each other; that pungent man-scent was filling the small space until I could taste it – so fucking horny. A powerful cum-shot from Uncle John was a challenge for Malakai to beat, but he did it, shooting over four feet, right over Uncle John's head and almost out of shot. This one's dirty – you'll love it.
Catch all the Butch Dixon filth and more here Read the full story here