Chaos Men says: I have said it before, but Braxton would make an amazing boyfriend.
He even gets a pretty good spank on Cooper Reed, who didn't even flinch! He seems to love getting his cock sucked, and he really goes after Cooper's cock in this video. Working with an uncut guy didn't seem to throw him this time.
Cooper has been topping a lot lately but I was hoping to get Braxton to bottom a portion of this video, but as much as he tried, he just couldn't make it happen. Cooper was in the zone to get fucked anyway, and I am pretty sure Braxton was hitting his sweet spot, because he was hard the entire time. Braxton ever the thoughtful partner and stroked his cock while ramming him.
Cooper has also turned a corner on busting a nut while getting fucked. He usually is really trying, but after several times getting the cum fucked out of him, he strokes his load out while Braxton slides his cock in and out.
Republished by Blog Post Promoter

Chaos Men says: I thought I would throw in some blue collar rough trade. Kendrick does construction and masonry work.
He is mostly straight, but says he has hooked up with guys on a few occasions, mostly sticking to swapping oral.
He has a thick 8 inch cock that gets the hardest when he showcases his hole. Hmmmm! Despite having a rough and tough look, he is super sweet, and was a lot of fun to work with.
Republished by Blog Post Promoter

Chaos Men says: Both Dusty and Sterling wanted to get started right away doing full-interactive, but I was not sure how each would do without seeing each one perform with a pro first. I felt Bay would look good with both guys and having a 'ringer' in there would help things move along smoothly.
Sterling does get fucked in this video, while Dusty was doing really good topping. Bay tends to be the bottom boy in this one, which suited him fine. He pretty much lays back and lets them have their way with him.
Sterling sits on Bay's cock, and I have to give him credit for taking such a big dick his first time out. Probably should have had him sit on Dusty's cock to break him in. Oh well, Go Big or Go Home! Sterling even manages to suck on Dusty's cock while riding Bay's dick.
There are cocks everywhere, and both Dusty and Sterling had very few limits. Both took on sucking dick right away, though neither was ready to start kissing or rimming. Both acts take most guys many videos before they get that intimate.
There is much to recount in this video, but of course the cum shots are the best part. Bay truly does get Tag Teamed as Dusty bust his load all over Bay's hole, giving him a great creampie. Dusty nuts very quickly and expertly juices Bay's hole. Dusty moves quickly out of the way after creaming Bay's ass, letting Sterling fuck his creamy hole.
Sterling's cock gets extra hard as he uses Dusty's load as lubricant. It starts to froth up, as Bay sucks clean Dusty's dirty cock that had just filled him up. Bay starts jerking his own cock furiously until has a super intense orgasm. I love watching Sterling's cum-coated and frothy cock sliding in and out of Bay's hole as Bay unleashes his load!
Sterling cums last, and just like Dusty, he nails the creampie perfectly. He adds his load to Dusty's, leaving Bay, full and spent.
Republished by Blog Post Promoter
Chaos Men says: I wasn't really sure what Marc would be down for when booking his first video. So when I initially had setup this pairing, Shiloh was going to be doing all the work. After talking with him during his solo, it was clear he was down for everything.
Republished by Blog Post Promoter
Chaos Men says: I started working with Griffin and Augustus about the same time, and I immediately thought they could be kissing cousins, so I knew I wanted to pair them up. Griffin loves the big cocks, but I was not sure about Augustus skills yet. Based on his first film, I figured Augustus was more of a bottom.
Alec wanted to jump in also, and before I knew it, I had three 'mostly' bottom guys in one scene. Griffin can certainly top, but Alec has always wilted when going up to bat.
Republished by Blog Post Promoter

Chaos Men says: Baker took a new fancy job. It required him to go away for 4 weeks training, and then he came back and started his 9-5 job. He sure didn't conform to the standard work day and daily grind, so quit after a short time, and found a local minimum wage job which was not covering his bills.
Republished by Blog Post Promoter

Chaos Men says: I love Kenneth's body. Enviable pecs, biceps and quads. He also is packing an 8″ cock.
He and his girlfriend had tried to setup some adult video work as a couple, but it sounds like their first foray into the video world was a scam. His girlfriend seems to be sexually fluid and adventurous, so she encouraged Kenneth to find some guy-on-guy video work while they figured out how best to market themselves as a couple.
They both have a kinky side, and Kenneth revealed he really did like anal play. I offered a butt plug for the video. He thought the size was large (it's not) and I realized the butt plug he used at home was no bigger than a finger.
I did worry that he would go to insert the toy and find that he could not tolerate it. Thankfully, he naturally used his fingers first to loosen up his hole, and you can tell the extra anal stimulation is what got him hard.
After he strokes his cock, he gets doggie-style and slides the butt-plug in. It takes him a few moments to take it in, but he was a happy bottom, stroking his cock with his ass plugged.
He gets on his back for the cum shot, turning the vibration on. Took him no time at all to bust a load out of his thick cock!
Kenneth says he will come back to get oral, so stay tuned for that next week. He also indicated he might be down to fuck or be fucked, and I will definitely try to get him back for more.
Republished by Blog Post Promoter
Chaos Men says: I wanted to put Ledger's bossy vibe with Antonio Cervone's passive energy. Antonio is downright subservient in this video!
Ledger always shows up to the shoots dressed real sharp, even when he is just wearing gym clothes. I have had great feedback when guys leave their shoes, shirts or socks on, so for those of you wondering why we left various clothes on, we were just trying to keep those fans happy.
Antonio starts by showing-off his stellar cock sucking skills, and even rims Ledger's hole. I really would love to see Ledger bottom. He has that tramp stamp tattoo that always makes me wonder why he is not keener on ass play.
Republished by Blog Post Promoter
Chaos Men says: Bentley was finally done with school and came out to do a couple shoots. We got him to bottom for Armani the day before, so the next day, he was going to top and give his freshly fucked hole a break.
Truman was a little sad to not top, but only because he had just recently found confidence in being a top.
See Bentley bareback fucking Truman's tight man hole here!
Republished by Blog Post Promoter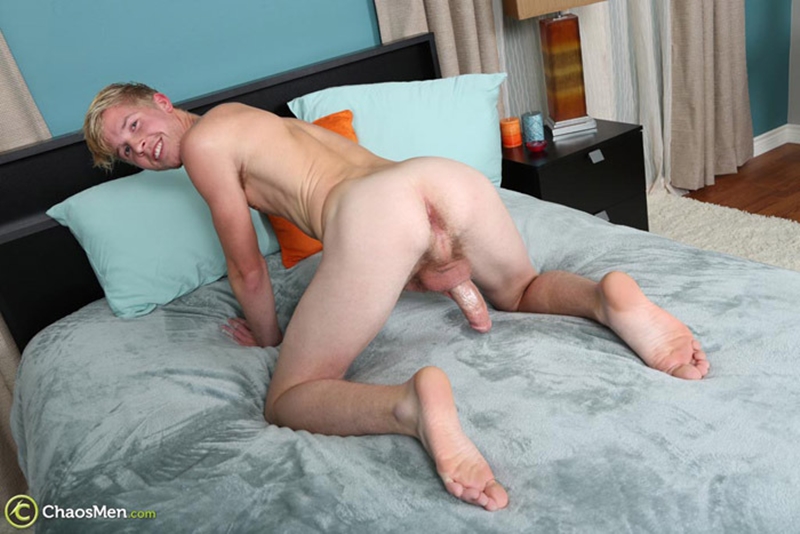 Chaos Men says: Jon surprised me during his interview. He is a gay guy, and when I asked him what he liked to do, he mentioned fisting. That's not one I have actually heard before. Ironically, he is not into super hung guys, but every now and then, having a guy dig in with their hand turns him on.
See sexy blond Jon is not into super hung guys but enjoys being fisted here!
Republished by Blog Post Promoter