Circle Jerk Boys says: This is Tripp Townsend's story of how he became inducted into the CJB Secret Fraternity. It's founding members being Jacques LaVere, Logan Vaughn and Doug Acre. One night as I was walking across campus from the library, I was suddenly taken from behind by a group of guys who proceeded to blindfold me.
Whispering into my ear, they taunted me by saying, 'Don't worry, you're about to become one of us now.' Taking me into their secret clubhouse, the blindfold was taken off and I could not believe my eyes as the room was filled by the fittest jocks in the college.
The guys were all standing ominously in a circle like attendants at a magical rite or religious ceremony, wearing black robes except for the fact they had big boners out and were jerking in a group. It soon became clear to me that this was my initiation ritual and I was asked to enter the circle and to take a place in the middle.
The ritual included a cumshot contest in which new members were placed in the middle, an activity that has henceforth become the main focus for the entire group.
It consists of all the boys jerking off in front of the new members (and vice versa), with the first to shoot his load far enough to actually reach a guy on the other side. Given the good fortune of completing this initiation for newcomers by receiving a welcoming blowjob.

Circle Jerk Boys says: They take turns sucking each other's cocks and once their inhibitions are gone Jonathan Cordona fucks Mike Chambers for the first time.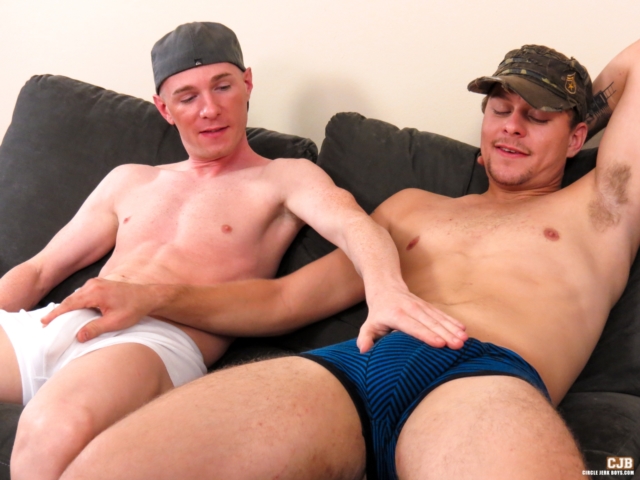 Circle Jerk Boys says: Two big dicked buddies, Isaac Conn and Jesse Idol, are ready to stroke one another's cock and eventually wrap their juicy lips around some thick dicks as well.
Circle Jerk Boys says: Today we have some hot sexy college boys (Aaron Slate, Jake Zackery, Shane Jacobs, Zach Riley) who all have a healthy addiction to masturbating.
Circle Jerk Boys says: Bobby Hart treats his virgins with ultimate care in the beginning but once they bottom out on that cock Bobby knows it's time to pick up the pace and go deep and hard. Newbie, Sean Christian couldn't get enough of that huge cock so he rode it hard.
Circle Jerk Boys says: Feast your eyes on the constant cock slurping and ass eating while the moans and groans from these four sexy boys (Blake Stone, Jake Jammer, Kirk Cummings, Trent Jackson) send you over the edge.
Circle Jerk Boys says: Isaac Conn just can't get enough dick in his mouth and once again we brought him back to show James Smith how it is done. James is a laid back quiet fellow but Isaac is the more dominating one who is ready to take the reins. Come relax while these two waste no time in pulling their cocks out.
Circle Jerk Boys says: Adding drama and incentive to the proceedings, a lone chocolate muffin sits on the table in front of them, ready to absorb the 'man-glaze' and resting as a 'reward' for whoever finishes last. Let the best man win, and let the last man eat cake.
Circle Jerk Boys says: Toby Springs isn't happy but it gets worse when the coach wants him to stay and clean up the gym as punishment for poor grades.

Circle Jerk Boys says: Steve Stiffer's never been fucked but it feels really good to him and he wonders what a hard cock might feel like throbbing deep inside his ass.
As he gets closer to climaxing he lays out on the bed stroking his cock faster and as he blows his load his roommate catches him nutting all over himself.