Deviant Otter says: I've know my buddy Dom for a few years now. We first met on a shoot for OTH. He had never been with a guy before but he wanted to make some quick cash so his buddy brought him to the shoot. We hit it off and stayed in touch.
What first turned me on about this kid is that he's a kinky straight dude. Slightly bi curious, but what I think is even sexier is that he likes his wife to fuck him up the ass with a strap-on, so he's definitely open minded.
I couldn't get him to let me fuck his holes but I told him if he did a vid I'd give him some practice fooling around and fucking dudes since he wants to be an escort.
Even though my dick never gets all the way in his mouth or that my cock never slides all the way into his hole – there's just something really hot about the tease and anticipation that he might let me in.
And of course I let him pound out my hole for a bit. Hopefully you guys enjoy him as much as I did.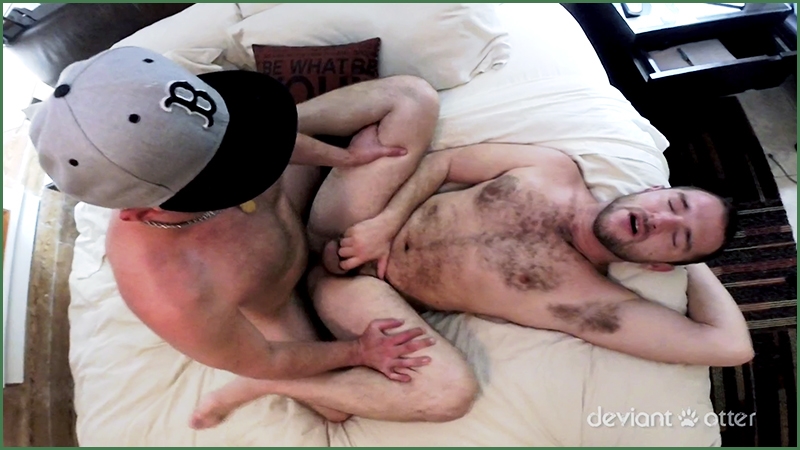 Deviant Otter says: My balls had been aching to drain a load in this hot otter again since the first time we fucked in Key West last year (side note – some dude punched me in the nuts to hard the night before and gave me a real serious case of blue balls, so thats why my nuts look like Easter eggs).
This stud is actually the first person I filmed a sex tape with for the site.
No shocker here, but for the first vid we were both really wasted, it was dark, and the camera work was rough because it was my first time trying to record a full hookup session, so I've always wanted the chance to do this boy some justice and give you guys a better shot.
This time it was a foolproof to capture all the action because I had my GoPro and my boyfriend was there in Key West with me, so he was able to hold the camera (and get his dick sucked, but what else is new).
I can't tell you enough how friggin sexy I think this kid is, and he is just one of the most precious individuals I've ever met, not to mention his junk is perfection.
I could watch this kid take dick for days, he is such a pleaser, a true example of a man who just wants to let you use his holes just to make you feel good, its such a beautiful thing.
I worked his mouth, devoured his glorious fuzzy ass, and then banged him out raw until I couldn't keep my load in any longer.
Usually the sequel isn't as good as the first, but thats definitely not the case with this fucker.
Deviant Otter says: As much as I love rough, mean faced sex, I also think its really hot when a guy is wicked smiley and doesn't take things so seriously, like my new bud, Jake.
The weather was great so we chilled out by the pool also because the construction guys were out working next door and I felt like putting on a show (sorry about all the drilling and banging).
So its no big surprise that him and I shared the same fuck buds, and apparently they've mentioned to him that we have very similar dick (like size, shape, feel, etc), and boy were they right.