Eurocreme says: After being prick-teased for far too long by a big dick in his face at the hostel, young Lucas Phelps decides he can't miss the golden opportunity presenting itself right on front of his face. Super hung fellow traveller Kayden Gray has been on the bunk above his for days on end, his giant dick beckoning the horny young bottom from the very first time it was on show, lotion being rubbed in to Kayden's skin, every inch of his naked body glistening and almost begging for attention.
Finally with enough courage, Lucas wraps his soft plump lips around the shaft, and it's almost instantly hard, right before our eyes becoming engorged and stiff. Moving to the next bed, Kayden now takes full control of the skinny twink, loving the idea of splitting him in half with his giant dick.
Lapping at his balls and never-ending shaft, Lucas is in his element, the cock worshipper not wanting to leave that dick ever. His own dick a giant surprise for Kayden, who takes great pleasure servicing first that, and then his smooth tight ass, prising his hole open and letting Lucas slowly sit down on it, getting his ass used to the sheer volume disappearing inside him.
Still rock hard as his delicious ass swallows it all down to the balls, Kayden needs to only lay back and let the power bottom work it.
Soon being flipped around and fucked into the flimsy beds of the hostel, Kayden builds up a hot wet sweat, Lucas soon spurting over himself, swiftly followed by Kayden, coating his new fuck buddies balls and abs, rubbing the spunk with the sweat into a perfect cocktail of juice.
Eurocreme says: We're treated to an amazing group session with the smoothest twinks in all of London. Waking up with morning hard-ons, all four are soon at it on the sofas, sharing rock hard cocks and having them thrust past their hot lips and down tight throats, you can almost taste the sexual tension as we watch their delicious butts gets pounded, both bottom boys getting a feel of each dick ram into them all the way inside.
Eurocreme says: Waking up with morning hard-ons, all four (Lukas Layton, Dan Roberts, Shane Stone and Zak Hazzard) are soon going at it on the sofas, sharing rock-hard cocks and having them thrust past hot lips and down tight throats. You can almost taste the sexual tension as their delicious butts gets pounded, both bottoms getting a feel of each dick ramming all the way inside.
Eurocreme says: Bailey shoves his already solid meat into his mouth as Justin D'Angelo kneels to taste that peachy smooth ass, licking Jordan B's tight young hole and getting it ready to be stretched out by his thick throbbing cock.
Eurocreme says: Hairy muscle man Christopher Daniels, with great blond hair all over his body, teams up with twinky Luke Desmond, the slim, toned young lad with a huge dick. A lover of twink spunk, Chris can't wait to get in bed with Luke, immediately stripping and sporting a massive hard-on just like Luke.

Eurocreme says: Borstal guard Steve Masters gets horny watching three lads working away so decides to make two suck and fuck each other whilst fucking the third. Hardcore close up action so we can almost reach out and feel these cocks sliding in and out of the tight but willing holes. Dark haired Rio Francisco gets so rock solid that he shoots one of the biggest loads of cum in the film, soaking the floor, whilst Will Jamieson drenches Ricky Jackson's back in load after load shooting from his cock, fresh from ramming into his hole.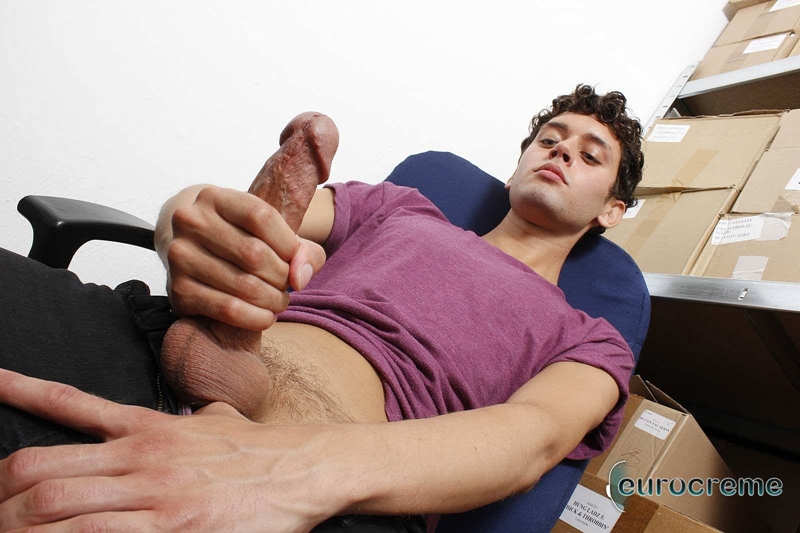 Eurocreme says: Taking a break on a very sexy stock take, slim young Marco DuVaul relaxes on the chair, tossing his clipboard aside he leans back and whips out his already growing cock for us.
Softly stroking it, we see it get harder and harder in his hands as his pumps his fully erect, long shaft as he remembers his horny time with Mickey Taylor earlier that week.
Waving his huge dick in our faces as the camera zooms right up from beneath him, so close we could almost lean forward and lick his hairless balls and perfectly smooth butt hole.
Almost reading our minds, Marco takes us into the next room where a fantastically horny clear fleshjack is waiting.
He slowly slides his cock deep inside. We literally see every inch slide deep, as his cock head tip almost bursts out the end as he bucks and fucks the thing for us. Marco's smooth slim body slide down to his crotch and pumping meat.
Not finished yet, Marco whips out a thick dildo and bounces like a twink possessed on top of it, right down to the balls, still jerking away and squirting his juice all over the place mid-bounce, almost swallowing the whole thing as his butt puckers and spasms with the escaping spunk.
Eurocreme says: Jump behind the camera, then again behind the webcam to meet the boys who perform their Private Show just for you.
They are waiting for your attention as they tease and play with you, and themselves, turning on everyone who's watching and getting off on the fact they are being watched from behind the screen.
Filled with interviews, sneaky peeks and insider knowledge of the movie to come – check out the Behind the Scenes of Private Show today.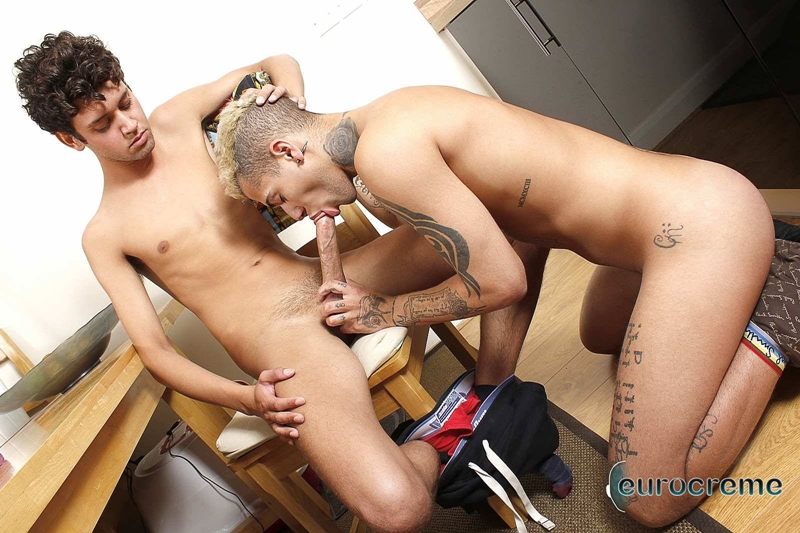 Eurocreme says: Arriving at his mates, Mickey is met with by his friend's flat mate. Soggy from the rain he takes off his wet top sparking conversation about his tattoos.
Marco is in awe of mickeys sexy body and sexy tattoos so when Mickey reaches across to get his top he cannot help but kiss him. This leads to a hot and horny pair with their dicks out, they can't get enough of each other's throbbing cocks.
Mickey get Marco onto the kitchen table and slam teases his new playmates hole, working it with his tongue before sliding his solid thick meat in. Mickey is anything than gentle with Marco, pounding his hole like it's the last time he is ever going to get the chance.
The pair both clearly enjoys the chance meeting as there is an explosive cum shot at the end.
Eurocreme says: Catching two guys in action was an unknown fantasy for Lucas, and watching hung stud Sam Syron getting to grips with pale twink Kamyk Walker on his bed is a sight we won't forget. As Sam swallows Kamyk's dick, his own dick stiffens and surprises Kamyk by the sheer size of the thing.