Fetish Force says: Doug Acre teases Armond Rizzo's cock, using two fingers to move the foreskin back and forth and his lips to tease the head. Letting Armond's feet touch ground again, Doug once more attends to sucking him, inhaling it deeply and stroking as he sucks, edging Armond closer and closer to orgasm.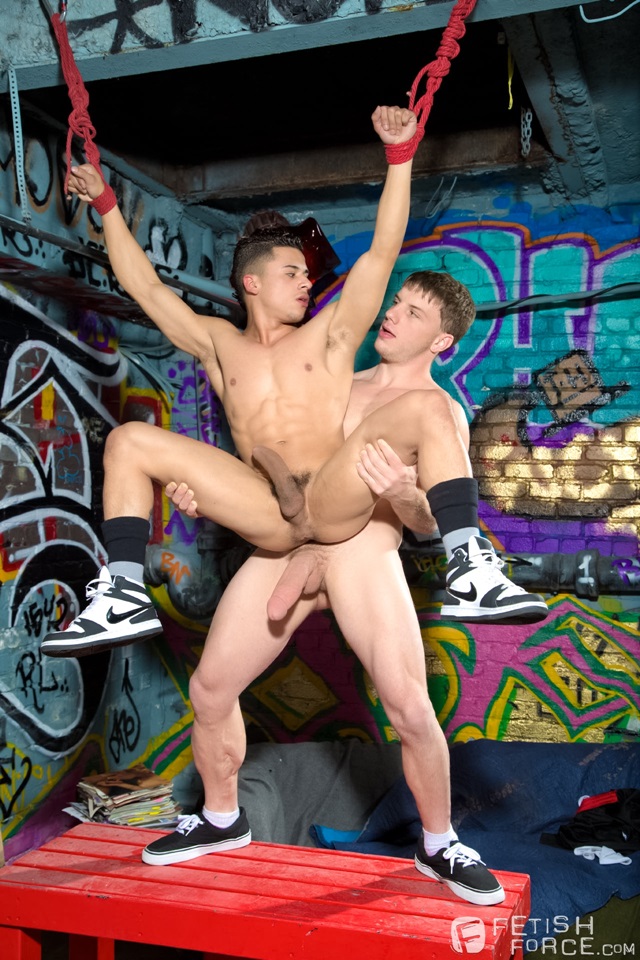 Fetish Force says: Chase Young enhances the routine by trying to deep-throat one of Preston Steel's entire feet, managing to get all five toes in his mouth, up to the ball of Preston's foot.
Pressing the soles of Preston's feet together, Chase fucks the space between them.

Fetish Force says: An erection juts out from Draven Torres' sculpted muscles. His nipples are rigid pinpoints of flesh. Tony Buff stands behind him holding a skein of rope that he uses to tie Draven's wrists behind his back.
As Tony works, the rope becomes an elaborate harness, binding Draven's arms to his sides and encircling his pecs. Tony kisses him and strokes his erection, playing with the foreskin.
Tony blindfolds Draven with a yellow bandana, and makes him lie on the floor. Tony licks Draven's cock, flicks his tongue across the tips of his nipples. Then he sucks him in earnest and slaps his balls.
Draven is a trembling mass of hard muscle, unable to do anything except utter sounds that express what he feels.
Again and again Tony uses his hand and mouth to bring Draven to the point of release, always stopping short of orgasm. Draven's cock is dripping when Tony finally brings him to full release not once, but twice.

Fetish Force says: Zack Taylor presses his advantage past the wrist to the forearm, causing Brian Bonds to grip the ladder hard and push back with his greedy hole.
Zack's free hand is jacking his own cock, which discharges its load onto Brian's boots.

Fetish Force says: Draven Torres's wand crackles with electricity every time it touches Armond Rizzo's skin.
Then Draven puts his toys aside, he presses his body close to Armond's and strokes him to an intense orgasm.

Fetish Force says: Doug Acre is in the process of tying Tyler Sweet's hands behind his back. Then he orders Tyler to kneel and suck him. Doug's hand on the back of Tyler's head provides the added thrust needed to get every one of Doug's 9+ inches down Tyler's throat.
Tyler gasps and his saliva flies. Some of it runs down his pecs. Doug throws his head back in erotic satisfaction, running his hands over the hard planes of his lightly furred chest. He continues to feed cock to Tyler and to push Tyler's head onto his cock to ensure the deepest penetration possible.
Tyler sucks like he's afraid to let go, begging Doug to 'give me your load.' He gets his wish in the form of a facial cum-basting that leaves him dripping with Doug's jism. Doug licks some of the spooge off of Tyler's face and they snowball it.