Maskurbate says: This session almost never took place. I've been asking Alexandre to appear unmasked for a while. He's so cute, I wanted everyone to see.
But his girlfriend asked him to quit making porn scenes. He even deleted me from his Facebook friends. Then out of the blue, he sent me a friend's request and asked me if I was still interested.
Of course I was. The athlete quit his girlfriend and has gained mass everywhere, in a good way. This was my chance to finally shoot him with no mask on.

Maskurbate says: Justin Filion is a very charismatic young dude who really want to get into the porn business. Fortunately, he came to me for advice and I convinced him to perform a solo on Maskurbate.
I quickly noticed that Justin is a natural and instinctively knows how to work a camera. He describes himself as a sociable funny guy, always smiling and loving the friends who surrounds him.
He shares his time between having a good time with them and going to the gym.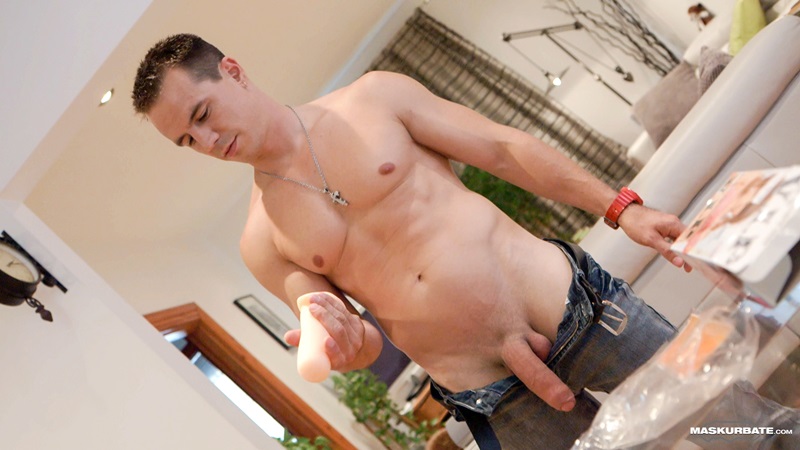 Maskurbate says: Ricky has been bribed to do as I say otherwise his wife would see the sex tape he did with other girls. This was the perfect opportunity for me to get this hot jock to obey my orders and have some fun.
Maskurbate says: I met Will through a Facebook friend of mine. I saw a picture of this tall young guy with an athletic physique on his wall, so I asked who he was. I learned that Will was a very quiet guy, he had a girlfriend and probably would never do this kind of video.
I tried anyway. It took some convincing but we finally met and shot the scene. As for most auditions, the guys have no experience and are often very nervous. Will was no different.
His girlfriend drove him to my place, we took our time, taking one piece of clothes at a time. I made sure he enjoyed himself and I think he did. I surely was very please to find out about his 9 inch dick, a very nice bonus.

Maskurbate says: In this Office Suck episode, Pascal receives Italian Stallion Elio as he takes a first look at his performance with Manuel Deboxer in Vice Versa. Little did I know that Elio would have liked me to be in that scene! That I once gave him the best blowjob he ever had and was hoping for an encore! I sure made up for it in this one. I used every bit of my oral skill to make sure Elio remembers this blowjob for a long time.