Mickey Taylor and Will Sims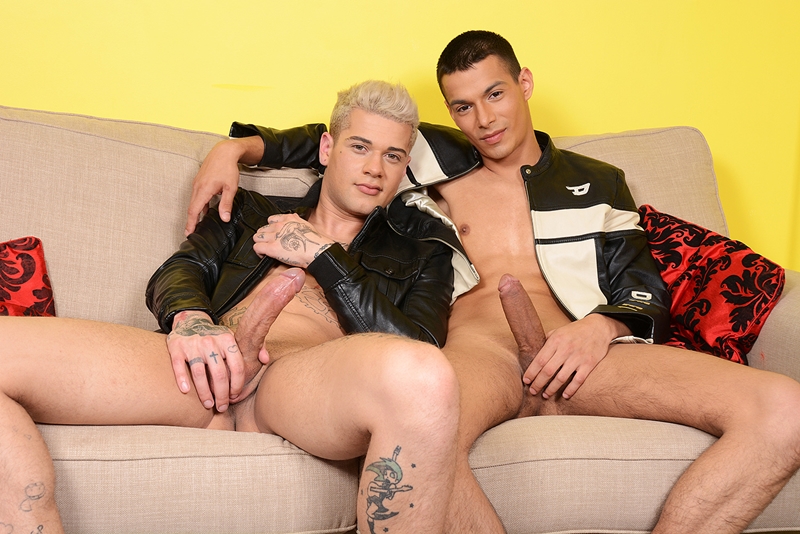 Staxus says: Rightly or wrongly, bikers have a reputation for being hard-hitting, wild-living felons, who drive up and down the road network looking for trouble. But the truth is that even the wildest of biker boys, including members of the notorious Hell's Angels – have a softer side, and love nothing better than cuddling up on a sofa with a loved one. So when tattooed rogue, Mickey Taylor, arrives home to find Will Sims supping a beer on the couch, we shouldn't be too surprised that the boys are soon smooching away like a couple of love-birds.
Not that the air of innocence lasts for very long, it must be said. Anyone who's seen Sims in action prior to this point knows that he's a lad who can't resist the temptation posed by a thick, swollen dick; and before you know it he has his face down in Taylor's crotch and is slurping away on the meaty offering that's nestled there. Not that Taylor's reputation for abstinence is any more convincing; and having returned the favour on his buddy's handsome ramrod, he's soon very eagerly prepping Sims' hungry little ass-hole with his tongue before finally thrusting his now rock-hard cock deep into the horny bitch's guts.
It's a rough, boisterous ride that follows; but it's one that's soon replicated in reverse, with the two lads flip-flopping positions (and asses.) in an energetic fuck-fiesta. As a result, any initial sense we had of romance between these boys is very quickly dispelled; culminating in a copious spray of spunk that's in keeping with the raw escapade.